PARKWOOD RIDING SCHOOL IS CURRENTLY FULL AND NOT ACCEPTING
NEW STUDENTS. PLEASE CHECK BACK FOR OPENINGS.


Located at Parkwood Equestriain Center
1800 E 49th S
Idaho Falls, Idaho

Heated Indoor Arena – Personalized Service – Individual Attention
Safe, Well-Schooled Lesson Horses – Professional, Understanding Trainers

Beginners at Parkwood Riding School, an affiliate of Parkwood Equestrian Center, get a solid foundation in hunt seat equitation, classical riding and horsemanship. Students can expect a pleasurable, safe, and affordable learning experience from our personable staff and team of outstanding school horses. Our program is hands on, teaching riders to care for their horses and tack, learning to ride and having fun. We offer both private and small group lessons. Many of our riding school students have graduated from the riding school and gone on to be successful competitors and horse owners. Whether riding is a childhood pastime, a return to the sport, or the fulfillment of a lifelong dream, Parkwood Riding School's quality horses and ponies can take you there.
Initial Lesson
We start all new riders with individual attention with a personal trainer. This allows us to assess your current skill level, and match you with the appropriate horse or pony for your level. This is a great time to discuss your goals so we can come up with a program that suits your needs.
For you first lesson you will need to wear long pants. We have boots and helmets to borrow if you don't have your own yet.
Note- we don't allow bicycle helmets or cowboy boots. Please arrive 15 minutes early before your first lesson to sign all the necessary paperwork.
Level I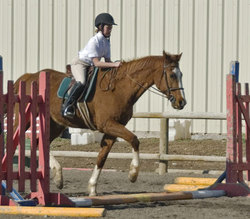 This is a starting class where riders will learn how to handle their horse or pony at the walk and trot. The more experienced riders at this level will be able to successfully maneuver their horse around a course of poles, with independant hand and seat. Skills they will learn at this level
– Riders will learn how to fix there stirrups from the ground, mount correctly and safely.
– How to correctly hold the reins, and lengthen and shorten them
– How to do a jumping/two point position at walk and trot
– How to do a posting trot, and diagonals introduced when they are more advanced
– Using their arena and navigating over a course of poles in jumping position
– How to take off the bridle safely, and put on the halter. Also correctly taking off the saddle
– Grooming, using a curry comb, dandy brush and body brush, and picking out the feet.
Level II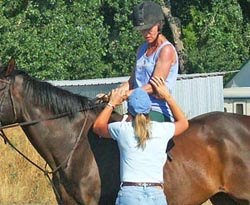 A class for Intermediate riders. This class is for riders who are beginning to canter and jump small fences. The more experienced riders at this level will be able to successfully maneuver their horse around a cross rail course, at either the trot or canter. Skills they will learn at this level
– Riders will know how to trot on the correct diagonal and also be able to sit the trot
– Riders will learn to canter and be able to tell what lead they are on.
– Starting to jump over small fences at the trot. Cantering will be introduced once they can hold a good jumping position over the cross rail at the trot.
– Using their arena and be able to change the lead or diagonal while riding around a course of fences
– Safely leading horses to their stall and blanketing horse safely if necessary.
– Learn how to clean the horse's bridle and saddle.
Level III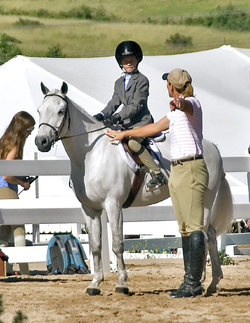 This level is for our more experienced riding school riders who have mastered the cross rail courses at the canter. The more experienced riders of this level will be able to navigate around a two foot course at the canter with changes of lead either through the trot or with a lead change.
– Cantering around full courses of 2'
– Learn how to do a lead change
– Bending lines and roll backs
– No stirrup work at trot and canter
– More advance transitions, ie, walk to canter, trot to halt.
– More advanced horsemanship available for riders who are interested.
Leasing/ Horse ownership
This is the next step for riders that have graduated through the above levels. However, it's never too early to lease or buy if you a have a passion to advance quickly through the levels and show outside the barn. We offer years of expertise in finding the right matches for riders to reach their desired goal. Having goals will help us guide you in the right direction, whether it be leasing, or buying. We should also have an idea at this time what discipline you want to go in. Whether it's hunter, equitation, medals, or jumpers –  from here we can design a program for you.
Riding School Lessons ………..$65 each
8 Lesson Pack …………………….$480 each
For more information Contact:
Sally Parks – 208-520-1850
Jessie Klingler – 208-403-9697