Carrots

2007 Thoroughbred Gelding, 15.3H
USEF# 5466043

Very safe, automatic, wonderful gelding for competing in 3 day eventing and Jumpers – Not spooky and has scope for 3'6″ and Training Level
---
Cooper II

2006 Canadian Warmblood Gelding, 16.1H
USEF# 5408571

Shown mainly in Canada – Lovely mover with experience to 1.15m – Exceptional Children's/AA Jumper
---
Devante

2006 Oldenburg Gelding, 17.1 H
USEF #5125867

Beautiful, big Hunter/Equitation Gelding – Good show record and very competitive in the AA and Children's Hunters and Equitation Needs a pro ride the first day – Priced accordingly
---
Berlin

2009 Swedish Warmblood Mare, 16 H
USEF#5143768

Beautiful Swedish Warmblood mare – Elastic, comfortable gaits – Show experience in the Jumpers and Eventing – Brave, brave – Water, ditches and banks are no problem! Scope for the 1.15-1.20m Jumpers
---
Rosita

2009 Argentine Warmblood Mare, 16.2 H
USEF#5371687

Very scope Jumper mare – Brave for cross-country – Good mover – Schooled Cross-country and water
---
True North

2006 Dutch Warmblood Mare, 16.1 H
USEF#5314734

Lovely Dutch Warmblood mare – Simple point and shoot – Has a great jump – Suitable for all three rings – Ready to teach her next rider
---
Acoustic

2010 Oldenburg Gelding, 16.2H
USEF# 5397039

Lovely, Safe, Suitable for all three rings – Always jumps – Not a kick ride – Auto everything

---
Cote D' Azur

2012 Registered Oldenburg Gelding, 17 Hands
USEF# 5498203
Recently imported. Wonderful, safe jumper. If you are looking for a younger prospect that has scope to jump the big classes, this is the horse for you. Will also cross over into the Equitation.
---
BF Gestik (aka Cooper)

2008 Canadian Sport Horse Gelding, 16.1H
USEF# 5301069

Super sweet horse that has a good show record with automatic lead changes and not spooky is looking for his next rider.
---
Carlito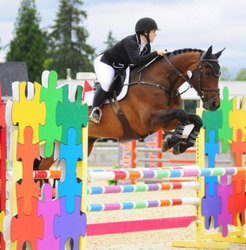 2006 Holsteiner Gelding, 16.2 H

Solid, safe 1.15m Child/AA Jumper – Very brave – Wants to be careful and win
---
Istanbul

2010 Warmblood/ISH Gelding, 17.2H
USEF# 5163246

Beautiful, tall, lovely to ride Warmblood Gelding – Wonderful Jumper – Has tons of scope – Equitation and Hunter Derbys also
---
Chessie

2005 Warmblood Cross Mare, 15.2H

13 year old warmblood mare by Leader out of a TB mare
Beautiful mover, very comfortable – Trail miles – Loves to work – Jumps in great style!
---
Jenius (aka Jada)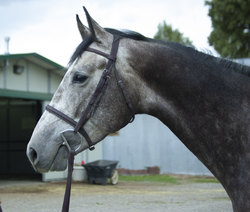 2014 Dutch Warmblood Mare, 16.2 H
USEF# 536418
American bred Dutch Warmblood Mare – Exceptional breeding – Lovely young Hunter/Jumper prospect – Going well under saddle
---
Blackie (aka Meet Joe Black)


2008 Thoroughbred Gelding, 16.2H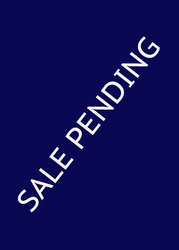 Very nice Jockey Club registered OTTB – Good manners – Local show miles – Not spooky – Ready to compete Hunters, Jumpers, Dressage, or Pony Club
---
Cinbam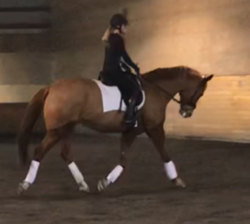 2011 Swedish Warmblood/Thoroughbred Gelding, 17.1H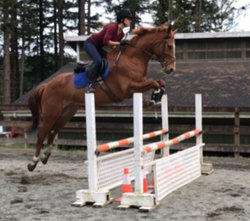 Lovely Gelding very well schooled to 2nd level Dressage with tons of scope for the Jumpers – Always jumps well and very comfortable with elastic gaits so easy to sit.
---
Dreamin Rose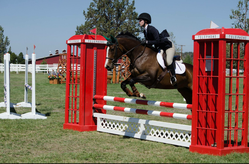 2009 Thoroughbred Mare, 15.3H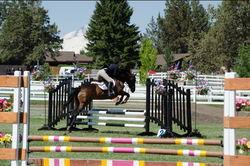 Jockey Club registered Thoroughbred mare – Primarily ridden in Pony Club and lower level jumpers – Not spooky – Easy and comfortable – Trail rides.
---
Wakons Day (aka Dizee)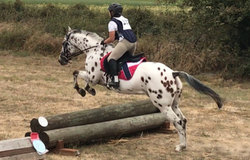 2012 Registered Appaloosa Mare, 15.2H
AHC Reg #673580

Beginner friendly – Very comfortable and safe – Trail rides and has scope to do the 1.10 Jumpers/Cross- Country – Safe
---