Prices are flexible and subject to change!
Kilkenny Ecco – $50k

2009 Dutch Warmblood Gelding, 16.2 H
USEF# 5100792

If you are looking for Jumper fun, this is the one! Scope for days and brave
---
Enfinite Possibilities (aka Cody) – $20k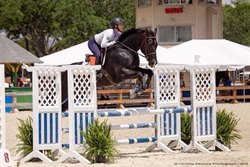 2010 Hanoverian Gelding, 16.1 1/2 H
USEF# 5579359
Very nice guy – Very comfortable, forward and elastic gaits – Not spooky at all – Started later in life, but ready to move up
Video Coming Soon
---
Don Vito – $25k

Gelding, 16.1 H
USEF# 5453338

Lovely older and well trained Jumper – Can show you the ropes
---
Navigator – $65k

2007 Westphalian Gelding, 16.2 H
USEF# 525729

Lovely equitation hunter type with a lot to teach the next equitation star.
---
Last Diplomat (aka Knox) – $12k
2007 Thoroughbred Gelding, 15.2 H
US Eventing# 139771

Evented through Intermediate – Very safe – Always jumps, but is forward
---
River Street – $25k/Lease $15k/year

2008 Oldenberg Mare, 16 H
USEF# 5326591

Great move up from a pony – Jumped to 1.20m but really is the winner at 1.0m and 1.10m
---