Scrabbles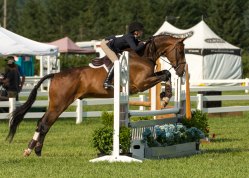 2003 Hanoverian Gelding, 15.3H
USEF# 5220080

Very cute Children's/AA Hunter – Loads of show mileage – Safe, good mover
---
Targa

1998 Warmlood Mare, 16.2H
USEF# 5189932

Great, Safe First horse – Some show mileage – Perfect for rider from 2'6″ – 3′- Great for all three rings!
---
Bocca's Over Easy

2007 Welsh Pony Gelding, 12.1 1/2H
USEF# 5005787

Lovely small pony, shown on the A-circuit in the Small Hunter Pony Division. This pony loves kids and is ready for a child that is eager to ride!
---