Verena Grace

2005 American Holsteiner Mare, 16H
USEF# 4872121

Well bred American Holsteiner mare currently schooling 1.10m – Light show mileage – Would also excell in Dressage – Very comfortable with expressive gaits.
---
JES Coconut Cream (aka Whitney)

2005 Canadian Warmblood Mare, 16.2 H
USEF# 5471296

Beautifully, well-bred Canadian Warmblood mare – Perfect for a rider to learn the bigger jumps on – Most suitable for 1.0 – 1.10 m – May also dabble in the Equitation.
---
WH Las Vegas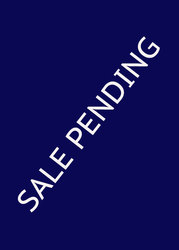 2008 Canadian Warmblood Gelding, 16.2 H
USEF# 5228541

Talented Jumper – Shown to 1.35m with scope for more – Brave and straight forward
---
ShaBang

2010 Warmblood Cross Gelding, 16.0 H
USEF# 5393129

Solid Training Level Eventer as well as Jumper and Equitation – Lovely flat work – Brave with a good lead change
---
Going Dutch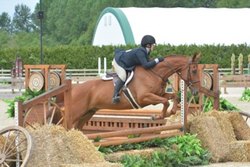 2009 American Warmblood Gelding, 17 H
USEF# 5334985

Great 3 ring horse – Nice large step – Jump and step for the 3'6″ – Needs mileage – Bred in the US
---
Caracondo

2004 Selle Français Gelding, 17.2 H

Well bred Selle Francais Gelding Calibur x Quiland de Revel – Great Gaits – Easy lead chnages – Can do Hunters or Equitation
---
Carrots

2007 Thoroughbred Gelding, 15.3H
USEF# 5466043

Very safe, automatic, wonderful gelding for competing in 3 day eventing and Jumpers – Not spooky and has scope for 3'6″ and Training Level
---
Cooper II

2006 Canadian Warmblood Gelding, 16.1H
USEF# 5408571

Shown mainly in Canada – Lovely mover with experience to 1.15m – Exceptional Children's/AA Jumper
---
Devante

2006 Oldenburg Gelding, 17.1 H
USEF #5125867

Beautiful, big Hunter/Equitation Gelding – Good show record and very competitive in the AA and Children's Hunters and Equitation Needs a pro ride the first day – Priced accordingly
---
Berlin

2009 Swedish Warmblood Mare, 16 H
USEF#5143768

Beautiful Swedish Warmblood mare – Elastic, comfortable gaits – Show experience in the Jumpers and Eventing – Brave, brave – Water, ditches and banks are no problem! Scope for the 1.15-1.20m Jumpers
---
Acoustic

2010 Oldenburg Gelding, 16.2H
USEF# 5397039

Lovely, Safe, Suitable for all three rings – Always jumps – Not a kick ride – Auto everything

---
Istanbul

2010 Warmblood/ISH Gelding, 17.2H
USEF# 5163246

Beautiful, tall, lovely to ride Warmblood Gelding – Wonderful Jumper – Has tons of scope – Equitation and Hunter Derbys also
---
Chessie

2005 Warmblood Cross Mare, 15.2H

13 year old warmblood mare by Leader out of a TB mare
Beautiful mover, very comfortable – Trail miles – Loves to work – Jumps in great style!
---
Jenius (aka Jada)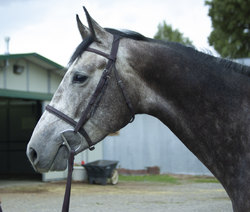 2014 Dutch Warmblood Mare, 16.2 H
USEF# 536418
American bred Dutch Warmblood Mare – Exceptional breeding – Lovely young Hunter/Jumper prospect – Going well under saddle
---
Cinbam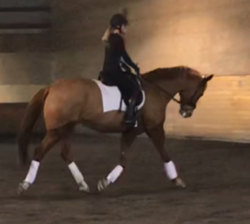 2011 Swedish Warmblood/Thoroughbred Gelding, 17.1H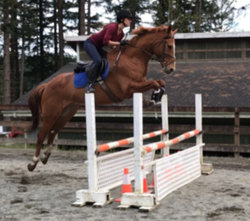 Lovely Gelding very well schooled to 2nd level Dressage with tons of scope for the Jumpers – Always jumps well and very comfortable with elastic gaits so easy to sit.
---