BF Gestik (aka Cooper)

2008 Canadian Sport Horse Gelding, 16.1H
USEF# 5301069

Super sweet horse that has a good show record with automatic lead changes and not spooky is looking for his next rider.
---
Istanbul

2010 Warmblood/ISH Gelding, 17.2H
USEF# 5163246

Beautiful, tall, lovely to ride Warmblood Gelding – Wonderful Jumper – Has tons of scope – Equitation and Hunter Derbys also
Video Coming Soon
---
Jenius (aka Jada)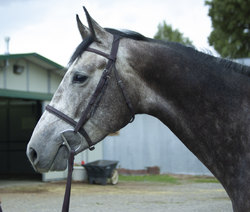 2014 Dutch Warmblood Mare, 16.2 H
USEF# 536418

American bred Dutch Warmblood Mare – Exceptional breeding – Lovely young Hunter/Jumper prospect – Going well under saddle
---
Adeven

2001 Irish Sport Horse Gelding, 16.3H
USEF# 4826797

Wonderful Schoolmaster Jumper up to 1.25m – Easy and brave – Ready to take his next rider through the levels – Lease or Purchase
---
El Secador (aka Seco)

2005 Welsh Cross Gelding, 15.1H
Safe first horse for a small Amateur or children's Jumper – Experienced in Eventing – Nice, smooth movement for Dressage
---
Cinbam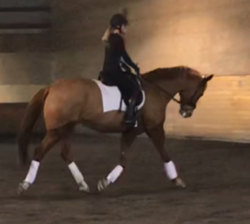 2011 Swedish Warmblood/Thoroughbred Gelding, 17.1H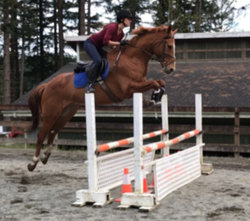 Lovely Gelding very well schooled to 2nd level Dressage with tons of scope for the Jumpers – Always jumps well and very comfortable with elastic gaits so easy to sit.
---
Dreamin Rose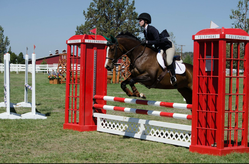 2009 Thoroughbred Mare, 15.3H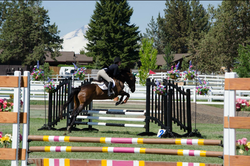 Jockey Club registered Thoroughbred mare – Primarily ridden in Pony Club and lower level jumpers – Not spooky – Easy and comfortable – Trail rides.
---
Wakons Day (aka Dizee)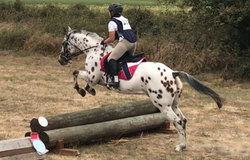 2012 Registered Appaloosa Mare, 15.2H
AHC Reg #673580

Beginner friendly – Very comfortable and safe – Trail rides and has scope to do the 1.10 Jumpers/Cross- Country – Safe
---
Portland

2007 Westphalian Gelding, 16.2H
USEF# 5303121

Great first horse for a child wanting to get into the 3ft medals and Equitation.
---
Verena Grace

2005 American Holsteiner Mare, 16H
USEF# 4872121

Well bred American Holsteiner mare currently schooling 1.10m – Light show mileage – Would also excell in Dressage – Very comfortable with expressive gaits.
---
Raise Your Hat (aka Orion)

2012 Registered (Jockey Club) Thoroughbred Gelding, 15.2 H
Bred and raised in Idaho – Has been ridden in the mountains – Ridden English and Western – Very comfortable gaits – Up to date on vaccinations and farrier – Green but very willing and trainable



---
Thoughtful

2005 Dutch Warmblood Gelding, 16.1H
USEF# 5281077

Children's/AA Jumper – Safe – Easy
---
Icebreaker

2008 Belgian Warmblood, Gelding, 16.2 H
USEF #5439800

Child/Adult/Junior/Amateur Jumper. Will do equitation.
---
WH Las Vegas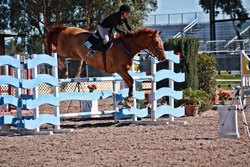 2008 Canadian Warmblood Gelding, 16.2 H
USEF# 5228541

Young, talented Jumper – Shown to 1.35m with scope for more – Brave and straight forward
---
Urgent

Imported Dutch Warmblood, Gelding, 2001, 16.2 H
USEF #5282105

Recently imported, experienced Grand Prix horse. Great for someone wanting to move up to the higher divisions.
---
Reflex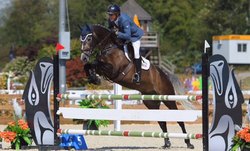 2012 Warmblood Gelding, 17H
USEF# 5260269

Very well bred young gelding by Flexible – Has been in training with Rich Fellers – Beautiful, scopey, and brave – Potential to make a top international Hunter Derby Horse – Great show record and ready to move up the levels!
---
Cooper II

2006 Canadian Warmblood Gelding, 16.1H
USEF# 5408571

Shown mainly in Canada – Lovely mover with experience to 1.15m – Exceptional Children's/AA Jumper
---
MZ Varsity Blues

1999 APHA Gelding, 16.2H
APHA #514416

APHA registered gelding – This incredabley sweet rescue horse is very willing – Trail rides, jumps, Western, not spooky at all – Needs loving home to finish and believe in him!
---