Over $60,000
Balou Grand

2006 Warmblood Gelding, 16.3 H

Exceptional Amateur or Child mount to be competitive in the Hunters, Equitation, and Derbies – Very sweet, safe, and automatic – Good mover
---
Flash

2007 Imported Warmblood Gelding, 16.1 H

Perfect for all 3 rings – Very scopey and super easy to find the jumps on
---
Olé

2007 Swedish Warmblood Gelding, 16.3 H

Recently imported – beautiful mover, walks the lines – easy to see the distance
Very rhythmical canter – nice slow step. Beautiful form – ready to step into the 1st Year ring. Can also do the Equitation
---
Sideshow
2010 American Hanovarian Gelding, 16.3 H
Exceptional breeding by Sir Caletto – Beautiful mover – Very scopey, young jumper prospect – Started over fences
---
Pop Star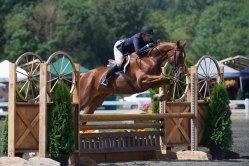 2007 Warmblood Cross Mare by Popeye K, 16.2 H
USEF# 5269195
Show mileage in the Pre-Greens ready to step into the First Years – Beautiful jump with nice ground covering stride – Walks the lines
---
Lincoln (aka LB)

2008 Warmblood Gelding, 16.2 H

Just imported – Big step – Perfect for Junior Hunters or Equitation
---
Earl Grey

2006 Warmblood Gelding, 16.2 H

Experienced 1.30m Jumper – Jumps open water – Honest and scopey – Show mileage – Can cross over into the Equitation
---
Charmed

2009 Warmblood Gelding, 16.1 H

Eligible Pre-Green – Good lead change- Horse for the competitive hunter rider
---
$25,000 – $60,000
Tirua
2004 Chilian Warmblood Mare, 16.1H
USEF# 5261098

Super safe first Jumper – Show mileage – Will take you where you want to go safely
---
Santiago
2012 Dutch Warmblood Gelding
3 year old – Exceptionally well bred young Hunter or Grand Prix prospect by Banderas (Balou du Rouet) out of a KPWN mare! Started under saddle
---
Sweetwater
2007 Thouroughbred Gelding, 15.3H
Super sweet Children's Hunter – Large step with auto lead change – Safe
---
Contendro

Imported Hanoverian, Gelding, 2002

USEF# 5272052
Imported well bred gelding by Contender. Show mileage up to 1.30m. Perfect Equitation horse!
---
Thoughtful
2005 Dutch Warmblood Gelding, 16.1
USEF# 5281077

Beautiful, scopey gelding that is competitive in all three rings: Hunters, Jumpers, and Equitation – Ready for a youth or amauter
---
Zemi WT
2006, Holsteiner Mare 16.1 H

Wild Turkey Farm bred 2006 Holsteiner mare by Chesapeak out of Qaja – Landgraf Carthago breeding – Exceptionally bred mare for jumping or dressage – Very scopey – Good mover
---
Carlito
2006, Holsteiner Gelding 16.2 H

Solid, safe 1.15m Child/AA Jumper – Very brave – Wants to be careful and win
---
Aquilles
2000 Belgian Warmblood Gelding, 16.3 H
USEF# 5060785

Flashy, experienced Jumper/Equitation Horse – Honest, careful, and Brave – A Show mileage – Great Junior horse – Can go in all three rings.
---
$10,000 – $25,000
Pilot

2001 Thoroughbred Gelding, 16.2H

Super safe – Great first Jumper type
---
Calinda

2005 Appendix Mare, 16H

Very brave, seasoned Jumper – Plenty of scope to take rider to the next level – Motivated seller

---
Crete

2011 Canadian Warmblood Gelding, 16.1H

4 year old CWB Jumper prospect – Super sweet- Started over fences – Shows potential to be a big time jumper especially for an amateur
---
Lincoln

2007 TB Hanoverian Cross Gelding, 16.2H

Thouroghbred Hanoverian Cross Gelding out of Landkoenig – Lovely Children's Jumper or Equitation horse – Good mover – Solid lead change – Show mileage – Ready to go – Lease Option Available
---
Adorado

2012 Hanovarian Gelding, 16.2H

3 year old Hanovarian gelding, 16.2 H and growing – by Stallion "Apiro" – Started under saddle – Super easy, good mover, scopey Hunter prospect
---
Verena Grace

2005 American Holsteiner Mare, 16H
USEF# 4872121

Very athletic – Perfect horse for young professional or aggressive amatuer wanting to jump 1.10m – 1.15m – Currently in training
---
Under $10,000
Fly Me Away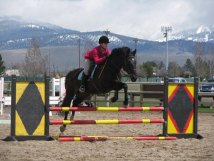 2001 Irish Sport Horse Gelding, 16.1H
USEF# 4130358




Sturdy Irish horse – Brave and scopey – Great for someone looking to move up – Very simple
---
Red Ruby

2001 Thoroughbred Mare, 16.1H
Jockey Club registered Thoroughbred mare – Very brave – Lead changes – Scopey – Has show mileage – Owner motivated
---
Lena

1996 Holsteiner Mare, 16.2 H

By Cicero out of Brigitta – American Holsteiner Mare – Proven brood mare – Beautiful mover – Shown Dressage and Jumping – Back to work – Owners reducing their herd – Would be perfect for someone wanting an older School Master
---
The Big Picture

1998 Throughbred Cross Gelding, 16.3
USEF #4818994

Great first horse – Has self carry – Not spooky – Jumps well with lead changes
---
Ruby

2010 Thoroughbred Mare

Very cute, well mannered, green Thoroughbred Mare – Safe and Brave – Started over fences with auto lead changes.
---
Chances Are

1998 Sweedish Warmblood Mare, 16.0H
USEF#: 4824884

Confident, experienced Jumper – Brave, uncomplicated, and quick – Successful competitor in the .90m and 1.0m divisions at top rated A shows including Thunderbird, Pebble Beach, and Hits Desert Series – Super confidence builder for beginners to AAs – Lease option available.
---
Peter Parker

2000 Thoroughbred Gelding, 16.0H
Usef# 4593207

Show mileage in Florida, also Evented – Safe, forward, auto – Point and shoot – Very game to be the winner!
---
Malibu

2005 Quarter Horse Cross Mare, 14.1 7/8H
Usef# 5105766

Experienced lesson horse – walk, trot, canter – Auto lead changes
---