Over $60,000
Olé

2007 Swedish Warmblood Gelding, 16.3 H

Recently imported – beautiful mover, walks the lines – easy to see the distance
Very rhythmical canter – nice slow step. Beautiful form – ready to step into the 1st Year ring. Can also do the Equitation
---
Springsteen
2007 Imported Dutch Gelding, 16.1 H

Super nice mover and jumper for the serious competitor with plenty of scope for the derbys and Juniors or AO's
---
Draco
2008 Imported Warmblood Gelding, 16.1 H

Eligible everything – Super easy, steps over the jumps – Perfect for someone wanting an awesome amateur or junior hunter.
---
Keepsake
1999 Dutch Warmblood Mare, 16.2 H

USEF# 4668183
Fancy AA/Children's Hunter – Seasoned competitor
---
Renaissance

2003 Oldenburg Gelding, 17.1H
USEF # 5209557
Great Children's/AA Hunter – Smooth in the air – Auto Changes, steps over the jumps.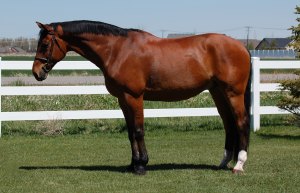 ---
Charmed

2009 Warmblood Gelding, 16.1 H

Eligible Pre-Green – Good lead change- Horse for the competitive hunter rider


---
$25,000 – $60,000
Yolo
2003 Westphalian Gelding, 16.3H
USEF #5284729

Scopey, easy, first jumper for child or adult wanting to jump 3'6″ or 1.10m to 1.15m – very brave – Safe – Not spokey at all.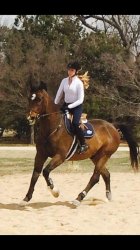 ---
All In Fun

2001 Welsh Pony Cross Gelding, 13.1H
USEF# 4538844
Super sweet first pony for very beginner. This pony will show your child the ropes – Hack winner.
---
Irish Pride

2001 Imported Irish Gelding, 16.1H
USEF# 5114590
Children's/AA Hunter with mileage – Great show record – Owner college bound



---
True Story

2009 Canadian Warmblood Gelding, 16.0H
Good mover – Eligible Pre-Green – Plenty of step to be a top Small Junior Hunter



---
Bo Tie

2001 Quarter Horse Gelding, 16.2H
USEF# 5189985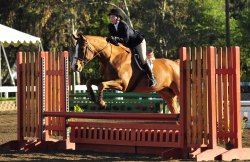 Great 1st Show Horse – Child/Adult, A-Show Miles – Good Mover – Sadly Outgrown
---
Scrabbles

2003 Hanovarian Gelding, 15.3H
USEF# 5220080

Very cute Children's/AA Hunter – Loads of show mileage – Safe, good mover

---
Willabelle

2010 Hanoverian Mare, 16H

Beautiful young Hunter Prospect – Jumps with lovely form – Great investment!
---
Clifford

2008 Oldenburg Gelding, 17H
USEF# 5268950

Experienced gelding for all 3 rings – Safe, honest, scopey
---
Inano

2005 Oldenburg Gelding, 16.2H
USEF# 5181707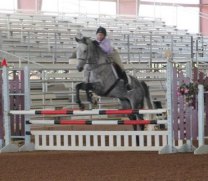 Recently imported – Great Children's Jumper mount – Safe and brave – Just needs to continue his show career – Owner off to college – Great investment
---
Clavileno

2003 Dutch Warmblood Gelding, 17H
USEF# 5005159

Large Junior Hunter, Equitation, Medal, Jumper. Solid 3'6". Safe move up horse. Easy, steps over the jumps. Scope for the 1.2M. Confident in all rings.
---
Cabotin

2004 Holsteiner Gelding 16.1H
USEF# 5138454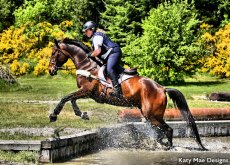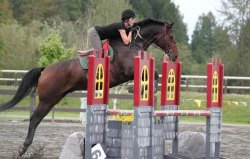 Perfect jumper for a child or adult wanting to compete in the 1.10m to 1.15m. Safe, honest – Good canter to be able to see the jumps on!
---
Bravado

2004, TB/Hanovarian Cross, Gelding, 16.3H
USEF #5203629

Experienced in the equitation , jumper , medals, and hunters.
Good enough mover to compete in all 3 rings. Great step up horse to the
3ft 6″ divisions. Ready to show Lease option available.
---
Mr Untouchable

Imported Irish Sport Horse, Gelding, 16.1 3/4H
USEF #5293402

Recently imported. Champion first time shown in U.S. Great AA/Children's Jumper. Beautiful and ready to show!
---
$10,000 – $25,000
Drezden

2007 Trakehner Mare, 16.2H
USEF# 5317969

Smooth and beautiful rhythmical canter – Excellent investment for A level hunters- Will win the hack – Auto lead changes
---
Ruby

2001 Thoroughbred Mare, 16.3H

Very good canter and well broke on the flat. Has show mileage – jumps 3'6″ easily
---
Roi Raja

2004 Warmblood Cross Gelding, 16H
USEF# 5272826

Super cute, honest first horse to step up to the 3ft – Has show mileage
---
Captain Butterscotch

2004 Welsh Cross Pony Gelding, 14.1H
USEF# 5305911

Very sweet, reliable large pony – Eligible green – Local show mileages – auto lead changes, good mover – Perfect first pony – Many championships
---
Under $10,000
Dodger

2008 Jockey Club Registered TB Gelding, 16.1H

Super temperament – Safe, Not spooky – Started over fences and very good mover – Super for pony club or eventing
---
Peter Parker

2000 Thoroughbred Gelding, 16.0H
Usef# 4592307

Show mileage in Florida, also Evented – Safe, forward, auto – Point and shoot – Very game to be the winner!



---
Mikey

2000 Blazer Pony Gelding, 14.1H

Great first pony – Trail rides and has been in training for jumping – Super comfy!



---
Reba

2003 POA Mare, 14.1H

Cute, safe, but forward pony Jumper – Not Spooky – Good canter – Has trial experience – Loves to jump!!!
---
Stella

2010 Thoroughbred Mare, 15.3H

Started over fences super sweet , safe for someone wanting a project



---
Frisbee

2001 Quarter Horse Pony Gelding, 14H

Great first pony – Quiet, cute mover – Trail rides, jumps – Excellent ground manners



---
Fosbury

2000, Thoroughbred, Gelding, 17.2H
USEF #497904

Has show mileage up to 1.15m. Safe, good lead changes. Well broke on the flat.
---